TRX
This class is taught by: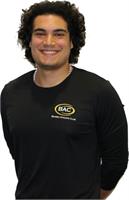 Training Philosophy:
Each one of us is unique. We live different lives with different demands set upon us. As a consequence, we both move differently and have different goals. This calls for an individualized program tailored to one's specific goals and needs. I strive to deliver quality training through evidence-informed practices. Working smarter not harder. A hybrid approach catered to restoring functional mobility all while increasing strength and improving cardiovascular conditioning. Aiding in both the physical and emotional development of motivated individuals who desire to become the strongest version of themselves.
Experience:
Growing up in San Juan, Puerto Rico I was always an active kid with a vivid imagination. Since a young age, I've been drawn towards the human anatomy and how to increase its longevity. Fast forward a couple years I graduate from Endicott College in Beverly, Massachusetts with a degree in Exercise Science and a couple of years of collegiate football under my belt. This degree also came with a couple of internships and learning experiences including but not limited to Northeastern Sports Performance, Endicott Football Strength & Conditioning, and Soul Physical Therapy where I currently work as a physical therapy aid and exercise technician. After training a wide spectrum of athletes ranging from middle school volleyball to high-performance NCAA Division I, II & III sports. As well, as having been educated through many human movement and training philosophies across a broad range of sciences. I developed a keen eye for targeting asymmetries that may lead to dysfunctional patterns as well as post rehab training.
Born in the Navy SEALs, Suspension Training bodyweight exercise develops strength, balance, flexibility and core stability simultaneously. It requires the use of the TRX Suspension Trainer, which leverages gravity and the user's body weight to complete hundreds of exercises.
Upcoming classes:
Sign Up

Fri

Oct 26 9:30 am - 10:15 am

with

Angel

Lopez, CSCS




Sign Up

Mon

Oct 29 4:00 pm - 4:45 pm

with

Angel

Lopez, CSCS




Fri

Nov 02 9:30 am - 10:15 am

with

Angel

Lopez, CSCS




Mon

Nov 05 4:00 pm - 4:45 pm

with

Angel

Lopez, CSCS




Fri

Nov 09 9:30 am - 10:15 am

with

Angel

Lopez, CSCS




Mon

Nov 12 4:00 pm - 4:45 pm

with

Angel

Lopez, CSCS




Fri

Nov 16 9:30 am - 10:15 am

with

Angel

Lopez, CSCS




Mon

Nov 19 4:00 pm - 4:45 pm

with

Angel

Lopez, CSCS




Fri

Nov 23 9:30 am - 10:15 am

with

Angel

Lopez, CSCS




Mon

Nov 26 4:00 pm - 4:45 pm

with

Angel

Lopez, CSCS




Fri

Nov 30 9:30 am - 10:15 am

with

Angel

Lopez, CSCS




Mon

Dec 03 4:00 pm - 4:45 pm

with

Angel

Lopez, CSCS




Fri

Dec 07 9:30 am - 10:15 am

with

Angel

Lopez, CSCS




Mon

Dec 10 4:00 pm - 4:45 pm

with

Angel

Lopez, CSCS




Fri

Dec 14 9:30 am - 10:15 am

with

Angel

Lopez, CSCS




Mon

Dec 17 4:00 pm - 4:45 pm

with

Angel

Lopez, CSCS




Fri

Dec 21 9:30 am - 10:15 am

with

Angel

Lopez, CSCS




Mon

Dec 24 4:00 pm - 4:45 pm

with

Angel

Lopez, CSCS




Fri

Dec 28 9:30 am - 10:15 am

with

Angel

Lopez, CSCS




Mon

Dec 31 4:00 pm - 4:45 pm

with

Angel

Lopez, CSCS