Booty Barre
This class is taught by: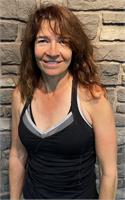 Sarah Mitchell has been teaching since 1999. She is certified by NETA. She teaches Les Mills Body Combat and Water aerobics. She is also cycle Reebok certified, and use to teach step and free weight classes. She loves teaching-it is one of her passions because she feels she can make a difference in everyone's life.
An energetic, fun workout that fuses fitness techniques from Dance, Pilates, and Yoga that will tone, define and chisel the whole body. And get this… you don't even need any dance experience and you certainly don't need a partner! The Booty Barre® method is the perfect combination of strength and flexibility with added cardio to burn fat fast.
Upcoming classes:
Sign Up

Thu

Aug 17 9:35 am - 10:30 am

with

Sarah

Lesser




Sign Up

Fri

Aug 18 5:00 pm - 6:00 pm

with

Alison

Dube




Sign Up

Sun

Aug 20 8:00 am - 9:00 am

with

Sarah

Lesser




Sign Up

Mon

Aug 21 9:35 am - 10:30 am

with

Alison

Dube




Sign Up

Tue

Aug 22 6:30 pm - 7:30 pm

with

Sarah

Lesser




Thu

Aug 24 9:35 am - 10:30 am

with

Sarah

Lesser




Fri

Aug 25 5:00 pm - 6:00 pm

with

Sarah

Mitchell




Sun

Aug 27 8:00 am - 9:00 am

with

Sarah

Lesser




Mon

Aug 28 9:35 am - 10:30 am

with

Alison

Dube




Tue

Aug 29 6:30 pm - 7:30 pm

with

Sarah

Lesser




Thu

Aug 31 9:35 am - 10:30 am

with

Sarah

Lesser




Fri

Sep 01 5:00 pm - 6:00 pm

with

Sarah

Mitchell




Sun

Sep 03 8:00 am - 9:00 am

with

Sarah

Lesser




Mon

Sep 04 9:35 am - 10:30 am

with

Alison

Dube




Tue

Sep 05 6:30 pm - 7:30 pm

with

Sarah

Lesser




Thu

Sep 07 9:35 am - 10:30 am

with

Sarah

Lesser




Fri

Sep 08 5:00 pm - 6:00 pm

with

Sarah

Mitchell




Sun

Sep 10 8:00 am - 9:00 am

with

Sarah

Lesser




Mon

Sep 11 9:35 am - 10:30 am

with

Alison

Dube




Tue

Sep 12 6:30 pm - 7:30 pm

with

Sarah

Lesser