HIIT BAC 30
This class is taught by: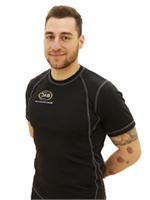 Training Philosophy:
I enjoy taking "I can't" out of your vocabulary! I believe that having measurable, actionable goals keeps you motivated and on the right track. Whether those goals are sport specific or aimed at overall well-being, I look forward to helping you attain them. I believe sports conditioning can improve athletes and non-athletes alike, and enjoy showing my clients how to incorporate it into their fitness routines. I also believe that keeping a strong core along with exceptional balance is the key to living a long functional life
Experience:
I have been in the Health and Wellness Industry since 2004 and immediately fell in love with it. In high school I began training to help improve my performance on the field and my confidence off it, and never would have guessed it would have the impact on my life that it did! That, along with sharing what I've learned and gained with others, is my motivation for staying healthy to this day. I am currently certified through the Aerobics and Fitness Association of America.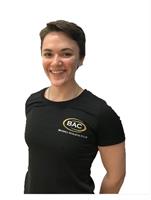 Training Philosophy
Everyone regardless of age or ability can lead a healthy and active life! I believe that I can help people do this in a safe and appropriate way that is personal to them. My goal is to help each of my clients achieve their goals no matter where they are in their walk with fitness. As Newton's first law states, a body at rest stays at rest and a body in motion stays in motion. I strive to help create lifelong movers.
Experience
I started my fitness journey at the delicate age of sixteen and saw just how much it could change my life. I started feeling better physically and emotionally, my confidence grew, and I learned to care for my body both with exercise and diet. As my personal passion for fitness grew so did my desire to help others experience the benefits that I was experiencing. This lead me to Gordon College where I major in Kinesiology and will graduate with a bachelors of science in May of 2018. I interned with the Fitness Department here at Beverly Athletic Club during the spring semester of my junior year. As I learned from the wonderful trainers here I knew this was where I wanted to be. After my internship ended I completed my Personal Trainer Certification through the International Sports Science Association. In August of 2017 I started a Tabata group exercise class at Gordon College that I hope will continue for long after I graduate. As a trainer I enjoy creating personalized fitness plans to help my clients stay active for the rest of their lives.
H.I.I.T BAC 30 is a 30 minute workout that will challenge you with short, high intensity efforts using a variety of body weight, strength, cardio and core exercises. Although not required, participants using a MyZone Heartrate belt will achieve their best results. All fitness levels welcomed.
Upcoming classes:
Sign Up

Fri

Oct 26 8:30 am - 9:00 am

with

Justin

Cammarata, CPT




Sign Up

Fri

Oct 26 12:00 pm - 12:30 pm

with

Natalie

Nix, CPT




Sign Up

Mon

Oct 29 5:30 pm - 6:00 pm

with

Sarah

Lesser




Fri

Nov 02 8:30 am - 9:00 am

with

Justin

Cammarata, CPT




Fri

Nov 02 12:00 pm - 12:30 pm

with

Natalie

Nix, CPT




Mon

Nov 05 5:30 pm - 6:00 pm

with

Sarah

Lesser




Fri

Nov 09 8:30 am - 9:00 am

with

Justin

Cammarata, CPT




Fri

Nov 09 12:00 pm - 12:30 pm

with

Natalie

Nix, CPT




Mon

Nov 12 5:30 pm - 6:00 pm

with

Sarah

Lesser




Fri

Nov 16 8:30 am - 9:00 am

with

Justin

Cammarata, CPT




Fri

Nov 16 12:00 pm - 12:30 pm

with

Natalie

Nix, CPT




Mon

Nov 19 5:30 pm - 6:00 pm

with

Sarah

Lesser




Fri

Nov 23 8:30 am - 9:00 am

with

Justin

Cammarata, CPT




Fri

Nov 23 12:00 pm - 12:30 pm

with

Natalie

Nix, CPT




Mon

Nov 26 5:30 pm - 6:00 pm

with

Sarah

Lesser




Fri

Nov 30 8:30 am - 9:00 am

with

Justin

Cammarata, CPT




Fri

Nov 30 12:00 pm - 12:30 pm

with

Natalie

Nix, CPT




Mon

Dec 03 5:30 pm - 6:00 pm

with

Sarah

Lesser




Fri

Dec 07 8:30 am - 9:00 am

with

Justin

Cammarata, CPT




Fri

Dec 07 12:00 pm - 12:30 pm

with

Natalie

Nix, CPT