Ron McKinnon, CPT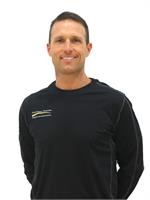 Training Philosophy:
True health is more than just physical. The human body is not a machine. In order to achieve optimal health, we must take a holistic approach to living, which includes the mental, physical, emotional and spiritual aspects of life. This ancient approach to health considers the whole person and how he or she interacts with his or her environment. It emphasizes the connection of mind, body and spirit.
Experience:

Ron's health and training philosophy has not always been holistic. When Ron first started personal training in 2001, he trained both himself and his clients the same way, utilizing "old-school" bodybuilding techniques. It was "no-pain no-gain" and a calories-in /calories-out approach to training and nutrition However, Ron's health and training philosophy got a serious overhaul in 2011, when he experienced his own health challenges, which included the surgical removal of his gallbladder. Ron has since transformed his own body, mind and spirit, using holistic principles and is passionate about sharing his knowledge and helping coach others to this way of living.
Ron McKinnon, CPT is currently not instructing any classes.