Sarah Mitchell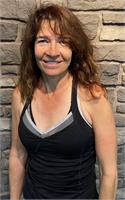 Sarah Mitchell has been teaching since 1999. She is certified by NETA. She teaches Les Mills Body Combat and Water aerobics. She is also cycle Reebok certified, and use to teach step and free weight classes. She loves teaching-it is one of her passions because she feels she can make a difference in everyone's life.
Sarah Mitchell instructs the following:
the empowering cardio workout where you are totally unleashed. This fiercely energetic program is inspired by martial arts and draws from a wide array of disciplines such as karate, boxing, taekwondo, tai chi and muay thai. Supported by driving music and powerful role model instructors, you strike, punch, kick and kata your way through calories to superior cardio fitness. Like all the LES MILLS programs, a new BODYCOMBAT class is produced every three months with new music and choreography.




Meant for those looking for a turbo-charged aqua fitness experience, this class includes high intensity cardio and water resistance to gain strength, endurance and range of motion while maintaining a low impact environment.




An energetic, fun workout that fuses fitness techniques from Dance, Pilates, and Yoga that will tone, define and chisel the whole body. And get this… you don't even need any dance experience and you certainly don't need a partner! The Booty Barre® method is the perfect combination of strength and flexibility with added cardio to burn fat fast.




We add cardio to your barre for the best burn ever! Short cardio bursts are interspersed throughout the class (with low impact options) to keep your heart rate elevated and the calories burning! You'll experience a total body workout with focus on the butt, legs, torso and arms to sculpt muscles and elongate the appearance of your body!