Brandon LaVack, LMT, CPT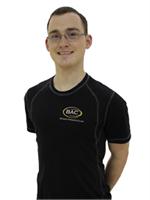 Training Philosophy:
At Gouverneur Central in New York State, where I was a 3 sport athlete: Cross Country, Indoor and Outdoor Track & Field, I set a few school records. I went to St. Lawrence University, where I majored in Psychology and continued running at the Division 3 level. Coaching isn't just training someone to be better. Coaching is the perfect balance between instruction, constructive criticism, and genuine support. Training is the easy part, getting people to stay committed when life throws a stick in their spokes, now that's the tough part.
As I continue to grow as a fitness professional, I've fallen into a couple niches – work with people in pain and endurance athletes. While I love working with as many clients from as many different backgrounds, those two categories gravitate towards me from my immense success. I also enjoy working with individuals looking to lose weight, gain muscle, or just improve their overall health.
Experience:
Training sessions need to be challenging, but scaled depending on your current fitness level. I want all my clients to get the results they are looking for in a timely manner. I don't believe in doing the same workout for every single client. Each client comes in with different needs, different starting points and plans of action that will best assist them in reaching their goals. My passion for fitness and my motivation/dedication towards reaching goals shows while working with clients. Together we can reach your goal!
I'm a self-proclaimed nerd and my passion for always knowing everything possible to help my clients has led me to explore many facets of human performance and injury prevention, many of those techniques just becoming known of in the last couple of years. I always aim to stay at the forefront, so that I can provide the absolute best service.
HOBBIES & INTERESTS: Running is a huge part of my life. I enjoy watching nearly all sports, especially at the top level of competition. It is very inspiring to see the level of dedication that the athletes have towards becoming the best at their given sport. While I enjoy all sports, I always lean back towards endurance sports due to the individual nature. At the end of the day it is a battle between you and your mind – you are your own opponent.
Brandon LaVack, LMT, CPT instructs the following:
Kinstretch is a movement enhancement system that develops maximum body control, flexibility, and USABLE ranges of motion. It is designed to be a group class that creates better articular health, mobility and movement needed for the demands of life, sport, exercise, running, hobbies and just about anything else you could think of.