Alex Johnson, CSCS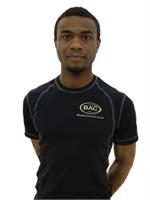 Training Philosophy:
After Graduating from Plymouth State University, where I earned my Bachelors of Science in Exercise Science, I began my career as a Strength and Conditioning Coach in Wilmington, MA. I spent three years as the Head Performance Coach working with clients and designing programs which included youth performance, adult fitness, and sports specific training. From there I worked at Western Carolina University as a Strength and Conditioning Coordinator, where I trained Division I male and female athletes in a variety of sports. I became certified through USA Weightlifting (USAW) as a Sports Performance Coach to better understand how to safely teach and progress my clients in Olympic lifts. Over the last four years I have also had tremendous success as a Personal Trainer working with clients looking to lose weight and improve their overall health. As a trainer I take a lot of pride in knowing that I can build a program to suit your specific needs, whether they are sport specific or a more general focus on overall fitness.
Experience:
Whether your goal is to lose body fat, increase muscle mass, improve overall health, or compete at your highest level, I believe you should train with a purpose and work hard to continuously challenge yourself. No matter your fitness goals, I will help you focus on them and get the results you want. HOBBIES & INTERESTS: Spending time with my family and friends is the most important part of my life. I enjoy competing in any physical activity that is challenging, especially basketball. I also love to travel, see new places, and try new foods.
Alex Johnson, CSCS instructs the following:
Women's Strength Program designed for advanced exercisers. Strong knowledge of power and olympic lifting is suggested. Must meet with instructor prior to enrolling into class.