Justin Cammarata, CPT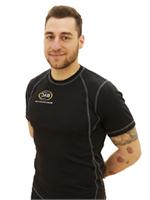 Training Philosophy:
I enjoy taking "I can't" out of your vocabulary! I believe that having measurable, actionable goals keeps you motivated and on the right track. Whether those goals are sport specific or aimed at overall well-being, I look forward to helping you attain them. I believe sports conditioning can improve athletes and non-athletes alike, and enjoy showing my clients how to incorporate it into their fitness routines. I also believe that keeping a strong core along with exceptional balance is the key to living a long functional life
Experience:
I have been in the Health and Wellness Industry since 2004 and immediately fell in love with it. In high school I began training to help improve my performance on the field and my confidence off it, and never would have guessed it would have the impact on my life that it did! That, along with sharing what I've learned and gained with others, is my motivation for staying healthy to this day. I am currently certified through the Aerobics and Fitness Association of America.
Justin Cammarata, CPT instructs the following:
Born in the Navy SEALs, Suspension Training bodyweight exercise develops strength, balance, flexibility and core stability simultaneously. It requires the use of the TRX Suspension Trainer, which leverages gravity and the user's body weight to complete hundreds of exercises.




Women & Weights is a 8 week program targeted towards women of any age and will teach participants how to use free weight equipment through proper technique and program design. This class will meet for one hour twice a week.




Tabata training is an intense circuit training regiment geared toward fat burn. Using multiple stations on a rotation or finishing all 8 sets of the exercise it will keep your body feeling great and sweating off the unwanted pounds. You will need to work as hard as you can for 20 seconds at a time, then 10 seconds rest……..You can do it!