Michael Donnellan, CSCS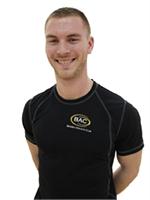 Training Philosophy:
Knowledge is Power; Exercise should be enjoyable. Helping my clients understand the key principles of exercise and finding a way to fully engage them will develop a passion and consistency towards exercise that will help them be their best self! With a little bit of direction and a lot of motivation, I will help get you and keep you on the right track to accomplishing your goals.
Experience:
Mike graduated with a Bachelor's degree in Kinesiology with a focus on Exercise Science from the University of Rhode Island. He is a Certified Strength and Conditioning Specialist through NSCA, a Certified Personal Trainer through ACSM, level 1 Sports Performance Coach (USAw), and Body Pump instructor (les Mills). He has worked with a wide range of clients including male and female, youth to senior citizen, and rehab patient to collegiate athlete. His athletic background stems Soccer and Track & Field
Michael Donnellan, CSCS instructs the following:
Women Strength Level 2 is an 8 week program designed for women of intermediate to advanced fitness levels. WS2 will teach participants how to use free weight and barbell equipment through proper technique and program design. This class will meet for one hour.