Chris Fontaine, CPT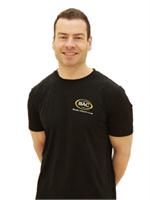 Training Philosophy:
My training philosophy starts with specific goals and revolves around functional body movement patterns that we all perform in our daily activities squatting, lunging, hinging at the hip, pushing, pulling, and carrying. Whether it's day to day living or sport specific training I feel you should practice moving how you will be moving during the game or through life. Together we will build your muscular strength and endurance, improve your balance and agility, and raise your level of cardio vascular fitness. No matter what your goals are I will keep you motivated and moving in the right direction to achieve them!
Experience:
In my early thirties I had an accident on a Mt. bike and fractured my clavicle and ribs, I was forced to be inactive while my body recovered, I gained weight and was out of shape, I felt like I had hit a low point in my life, it was then that I decided to take control of my health and wellness and improve my overall level of fitness. I had my ability to be active taken away from me, and I became motivated and dedicated to getting it back, to keep moving and never stop. After two and a half years of daily exercise I decided to become a Personal Trainer and begin a career in the health and wellness industry. My decision to commit to daily exercise was one of the best choices I have ever made. I love sharing what I've learned with people who are looking to make changes and positive impact in their health through exercise and living well.
Chris Fontaine, CPT instructs the following:
Born in the Navy SEALs, Suspension Training bodyweight exercise develops strength, balance, flexibility and core stability simultaneously. It requires the use of the TRX Suspension Trainer, which leverages gravity and the user's body weight to complete hundreds of exercises.




Men's only group. Learning techniques for power lifting and hitting some great circuits to take their fitness to the next level!




is a private group exercise class of Women who met and take aqua classes together and decided to work on the exercises they do in the pool on the land, they formed the group and sought out the help of the B.A.C. staff to help them learn and practice effective exercise for strengthening their bodies, improving their cardiovascular health, mobility, motor skills and balance as well. All to help them cope with and avoid injury as well as improving over all health and fitness and lifestyle.