Michael D'amico, LMT, CPT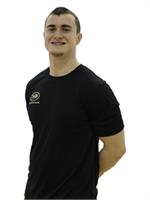 Training Philosophy:
I love to challenge each person to accomplish a feat physically that they never thought they would be able to do while improving your quality of life integrating strength training, cardiovascular conditioning and massage therapy to create better, happier you! Whether you're an athlete past or present or new to exercising entirely, we will always strive to achieve a greater you.
Experience:
I graduated from Salem State with a degree in Sport/Movement Science. I have been an avid fitness enthusiast since I was in my early teens playing baseball, hockey, and football. I have background in powerlifting competitively along with training for general health and wellness. My love for the latter lead me to pursue a career in massage therapy, as I am currently going to school to be a Massage Therapist and plan to be fully licensed by April 16'.


Michael D'amico, LMT, CPT instructs the following:
Program geared towards women who want a challenging workout in the women's only room. Improve your overall health, lose weight, and gain strength during a FUN workout! Women's Circuit Training is for all fitness levels!




A 45 minute class designed to promote a healthy lifestyle through sound nutrition.