Melinda Lyons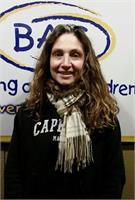 Melinda Lyons instructs the following:
Help your baby (ages 6 months - 1 year) develop a sense of comfort in the water and set the stage for a successful transition in learning to swim. Join us for this fun and enjoyable class to get your little swimmer off to a great start!




Toddlers (ages 1 year - 2 years) learn swim skills in the secure arms of their parent. Signing activities and games make it funas they blow bubbles, kick and float. Determination will improve with the ability to separate from parent.




Designed for the beginner swimmer, this class emphasizes increasing your child's confidence and ease while in the water. Starting out with the aid of a flotation device, children will work on kicking and the beginner techniques of swimming. This is a great class for children who are not timid in the water but use flotation.




Free from the need for floatation aid, this class is designed for swimmers comfortable on their front and back and who are ready to swim short distances. Work will begin on simultaneous leg and arm movement with emphasis placed on proper body position; to prepare for further stroke development. In addition participants will begin work on front crawl and elementary backstroke, while continuing to improve breathing technique.




This program will be designed for kids who love swimming and want to learn more in the pool. Pre swim team will focus on improving stroke technique, work on endurance and mastering the four competitive strokes. During practices the kids will work on drills, different endurance activities, learn how swim relays work and get introduced to starts and turns.




First time swimmers or children who are timid in the water will become more comfortable and safe as they learn basic kicking, arm strokes and submerging their faces. Safety rules, glides, freestyle arm stroke, backstroke and supported floating will be covered in this class.




This class emphasizes increasing your endurance and confidence in the water. Starting out with some use of flotation devices, our talented instructors will gradually help swimmers gain the ability to swim without aid. Participants will also learn breathing techniques, fully submerging, and floating independently on their front and back. Small class sizes ensure your little swimmer gets off to a great start!