Olivia Mento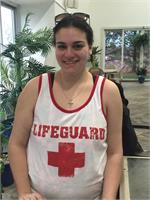 Olivia Mento instructs the following:
Designed for the beginner swimmer, this class emphasizes increasing your child's confidence and ease while in the water. Starting out with the aid of a flotation device, children will work on kicking and the beginner techniques of swimming. This is a great class for children who are not timid in the water but use flotation.




This class emphasizes increasing your endurance and confidence in the water. Starting out with some use of flotation devices, our talented instructors will gradually help swimmers gain the ability to swim without aid. Participants will also learn breathing techniques, fully submerging, and floating independently on their front and back. Small class sizes ensure your little swimmer gets off to a great start!




Tots in training is a unique swim class designed to ease toddlers into a nursery level swim class. Parents begin this program in the water with their children, and over the course of the session, start to stay outside of the pool, as their child becomes more confident swimming with an instructor. This class is great for swimmers who are unsure of being by themselves in the water with an instructor, but have the skills to engage in a nursery level class.