Allison Hakioglu, CPT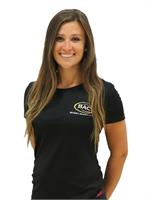 Training Philosophy:
Aly's training philosophy is centered around setting measurable and achievable goals that are targeted towards functional movement patterns that exist in our activities of everyday life. She strongly believes that making small goals will set each individual up for success. "Taking the first step in adopting fitness into your life can be hard," says Aly, "but staying consistent and keeping a positive mindset will only help aid in your fitness journey and continue to help in the adoption of a more fitness oriented lifestyle".
Experience:
Aly is a 2016 graduate of Salem State University with a Bachelors degree in Sports Movement Science, and is also a Certified Personal Trainer through the International Sports Science Association (ISSA). Growing up, she spent her time as a competitive dancer as well as a soccer and softball player. Playing sports motivated her to adopt a fitness oriented lifestyle and inspired her to help others in reaching their fitness goals. She loves sharing her passion of fitness with others, and enjoys helping individuals take those first steps in making changes that will positively impact their overall health and wellness. When Aly is not training clients in the gym, she loves to exercise and be outside doing various activities such as kayaking, paddle boarding and hiking. She also enjoys spending as much free time as she can with her friends and family.
Allison Hakioglu, CPT instructs the following:
Circuit Training class designed to increase Muscular Endurance, Muscle Tone, Cardio Endurance and help burn fat. This class has a moderate to high intensity level.




Program geared towards women who want a challenging workout in the women's only room. Improve your overall health, lose weight, and gain strength during a FUN workout! Women's Circuit Training is for all fitness levels!




A total body workout consisting of exercises meant to target large muscle groups. Participants will improve their muscular strength, build lean muscle mass and improve their muscular endurance.




The BAC Wellness Challenge is a 7 week fitness and nutrition program that is meant to overhaul an individuals exercise and eating routine. This program will inspire participants to implement new and positive life style changes. Participants will also lose weight, gain strength and find happiness through active living.