Michael Weisman, CPT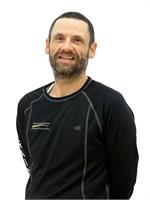 Training Phiolosophy:
I am a passionate Certified Personal Trainer and Fitness Coach on a mission to help as many people as possible improve their health and fitness, so that they too can have the energy, vigor, and vitality to live life to it's fullest.
Experience:
My passion for all things health and fitness related was ignited about 10 years ago when was in my mid-forties. At the time I was a VP at a major Wall Street investment firm, and despite being in decent enough shape to run several 10 kilometer races and half-marathons, I was nevertheless about 30 pounds overweight, and exhibiting many signs of what is called "Metabolic Syndrome," such as high-blood sugar (pre-diabetes), high blood pressure, and high cholesterol. My doctor however assured me that I had not yet crossed over the "point of no return," so to speak, and that with just some minor lifestyle changes and low doses of a few common prescription drugs, I could still live a basically normal and healthy life. It was from that point on that I committed myself to finding real answers as to why my body was beginning to break down and weaken, despite the fact that at the time I felt that my family and I were making relatively smart and healthy lifestyle choices. Thus began my journey to educate myself and acquire the knowledge, education, and experience necessary to embark on a path to find true health and wellness - without prescription drugs or phony quick fix schemes and supplements. My message to those who may find themselves on a path similar to the one I was on 10 years ago, is that no matter what your current age, weight, or fitness level, you can look, feel, and quite literally be, metabolically younger one year from now than you are today.
Please feel free to be in touch me with if you have any fitness related questions or need advice as to where to begin.
Michael Weisman, CPT instructs the following:
Smart Group Training is group training with a personal touch. The concept is unique in that it
combines a core 20­-25 minute high intensity workout with personalization based upon each
participant's abilities and limitations. We will use the FMS screen for each participant to guide us in
assigning them specific corrective exercises during the warm­up, as well as specific progressions
and regressions to be performed during the main workout