Tyler Kelleher, CPT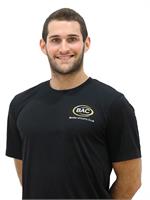 Training Philosophy:

There will always be some sort of exercise that can fit into your lifestyle and schedule. Nobody needs to spend countless hours in the gym or be bored with the same routine, no matter what your goals are. You get what you put in, and it is my job to make sure I get everything out of you. I will use my knowledge of functional training, injury prevention, and program modification to get you into the best shape of your life, and keep you there. Whether your goal is to improve your overall quality of life, lose weight and get toned, or if you have a sport-specific goal, I will help you go above and beyond.
Experience:
I started my athletic career playing hockey as well as running track and cross country. I sustained many injuries, and always found myself at the nearest physical therapy office. It was a mix of the rehabilitation portion of my therapy, as well as the strength and conditioning portion that really caught my eye. I not only wanted to learn everything there was to know about the body, but I wanted to learn injury prevention methods so I could help others avoid what I had to go through. I got my bachelor's degree at Salem State University for Clinical Exercise Science. I then got certified through the American College of Sports Medicine as a certified personal trainer. I absolutely love what I do. I get to help people achieve their goals, and go far beyond what they ever could have imagined was possible. I now incorporate my knowledge of functional movement patterns and injury prevention techniques to safely train clients of all backgrounds and body types.
Tyler Kelleher, CPT is currently not instructing any classes.