Mason Nix, CPT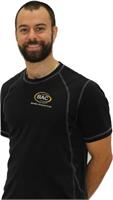 Training Philosophy:
I enjoy challenging clients to work hard, while providing them with guidance and motivation to reach their goals. Anyone can start exercising no matter where you are at in your life, all it takes is motivation and guidance.
Experience:
I graduated from Gordon College in May of 2017, where I earned my bachelor's degree in Recreation, Sport and Wellness. I started exercising to lose weight after my swimming and basketball career ended in college. Once I got started through the motivation and guidance of one of my best friend's, I fell in love with weightlifting and bodybuilding. I interned for a strength and conditioning class for college students and also interned for Gordon College Men's Basketball to increase their levels of fitness and conditioning. I have also completed a senior research project on the importance of physical activity and how it benefits us.
Mason Nix, CPT instructs the following:
Understanding how to use your body to optimize performance. Learning the essentials of exercise. (both aerobic & anaerobic). Coordination, speed, reaction, strength while putting enjoyment into exercise to establish a positive attitude towards fitness.