Natalie Nix, CPT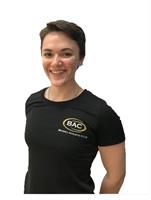 Training Philosophy
Everyone regardless of age or ability can lead a healthy and active life! I believe that I can help people do this in a safe and appropriate way that is personal to them. My goal is to help each of my clients achieve their goals no matter where they are in their walk with fitness. As Newton's first law states, a body at rest stays at rest and a body in motion stays in motion. I strive to help create lifelong movers.
Experience
I started my fitness journey at the delicate age of sixteen and saw just how much it could change my life. I started feeling better physically and emotionally, my confidence grew, and I learned to care for my body both with exercise and diet. As my personal passion for fitness grew so did my desire to help others experience the benefits that I was experiencing. This lead me to Gordon College where I major in Kinesiology and will graduate with a bachelors of science in May of 2018. I interned with the Fitness Department here at Beverly Athletic Club during the spring semester of my junior year. As I learned from the wonderful trainers here I knew this was where I wanted to be. After my internship ended I completed my Personal Trainer Certification through the International Sports Science Association. In August of 2017 I started a Tabata group exercise class at Gordon College that I hope will continue for long after I graduate. As a trainer I enjoy creating personalized fitness plans to help my clients stay active for the rest of their lives.
Natalie Nix, CPT instructs the following:
H.I.I.T BAC 45 is a 45 minute workout that will challenge you with short, high intensity efforts using a variety of body weight, strength, cardio and core exercises. Although not required, participants using a MyZone Heartrate belt will achieve their best results. All fitness levels welcomed.




Meant for those looking for a turbo-charged aqua fitness experience, this class includes high intensity cardio and water resistance to gain strength, endurance and range of motion while maintaining a low impact environment.




Women's Strength Level 1 is an 8 week program geared towards women of a beginner to intermediate fitness level. Improve your overall health and gain strength during a FUN workout!