BAC Super Bowl Open House
---
JOIN BAC FOR ITS SUPERBOWL OPEN HOUSE: We will have a week full of events that will kick off on Saturday, Jan 30th and ending on Friday, Feb 5th It a great time to experience all the club has to offer. Bring a friend or loved one to see what the Award Winning BAC is all about. Experience a new program, pamper yourself in the salon, get moving with Soul Movement. Remember if they join, it could lower your monthly dues. Please click here on information on the club referral program.


We will kick off Superbowl Open house with the launch of the new winter release of BodyPUMP, CX, BodyCOMBAT, BodyFLOW, RPM and bootybarre. You won't want to be on the sidelines for this open house.
Group Fitness
---
Experience what new in all of your favorite
Group Fitness classes
. To review the Group Fitness line up,
please click here
. You can sign up for your class via the club's
mobile APP
. Registration opens on
January 23rd
. Make sure to reserve your spot..you don't want to be on the side lines.
For your pee wee players
---
BAC Super Bowl Open House is for players of all ages. During the open house, the Building Active Children staff, will be hosting a Throwing Competition and Field Goal Kicking Competition. Please click here to reserve your spot.

Saturday, Jan 30th
Games & Activities
10:00 am - 11:00 am

Thursday, Feb 4th
Crafts & Snacks
3:00 pm - 7:00 pm




Pamper
---
You will need to take a break from training for the Superbowl and pamper yourself for a bit. New clients will receive 20% off any service. Please click here to review the menu for the Solei Salon & Spa.

Wednesday, Feb 4th
Complementary Chair Massage
5:30 pm - 7:00 pm


BAC Superbowl Squares
---
Earn a square for going to a group exercise class, adult fitness program, or BAC combine special event. Once all of the squares are filled, we will draw numbers. If the score at the end of each quarter falls on your numbers, you will win complimentary training sessions!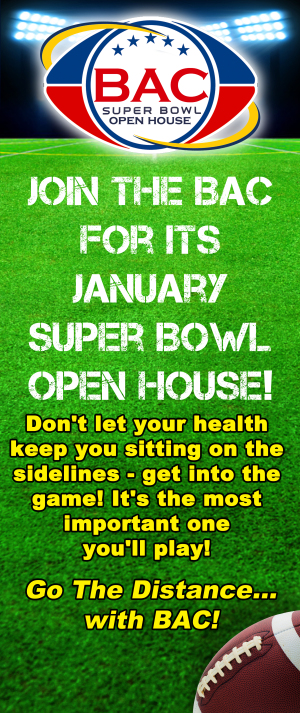 Free Clinics
---
Gearing up for the big Super Bowl Open House. The Award Winning Personal training team is offering FREE access into any of the clubs Functional Training programs. The schedule is below.

Saturday, Jan 30th
Tabata
7:30 am - 8:30 am
10:00 am - 11:00 am

Sunday, Jan 31st
Tabata
8:00 am - 9:00 am

Tuesday, Feb 2nd
Tabata
5:30 pm - 6:30 pm

For more information, please contact Justin Cammarata, Adult Program Director at jcammarata@beverlyathletic.com


FREE Special Team Events
---
Experience some the club's Special Team events during the week.

Saturday, Jan 30th
Pilates Reformer Demo - Soul Movement Pilates Studio
10:00 am - 10:50 am

Sunday, Jan 31st
Cardio Jumpboard Demo - Soul Movement Pilates Studio
8:30 am - 9:20 am

Monday, Feb 1st
BAC Combine - Personal Training Department
5:30 pm to 7:00 pm

Tuesday, Feb 2nd
Tabata - Adult Fitness Programs
5:30 pm - 6:30 pm

Wednesday, Feb 3rd
Chair Massage - Solie Salon & Spa
5:30 pm - 7:00 pm

Thursday, Feb 4th
Crafts & Snacks - Youth Activity Center
3:00 pm - 7:00 pm