Women on Weights at Beverly Athletic Club
---
BAC SMALL GROUP TRAINING - VOTED #1
---
For more information on Adult Programs
here
at BAC, please contact the club's Fitness Director Alex Johnson at ajohnson@beverlyathletic.com or call 978-927-0920 Ext 21
The Beauty of Strong Women!
---
Women on Weights @ BAC is a an eight week program specifically designed for women to progress their strength while performing power lifts, circuits, and functional movements. This is a progressive course, and women will need to meet with the instructors before hand to confirm their transition into the program.
Strength training for women is an essential element to introduce into their lives as they age. Resistance training and plyometric exercise can help increase bone density, posture, and overall strength. Free weights, suspension training, and power lifts are all utilized with an emphasis on control and technique. One hour classes twice a week focus on increasing muscle, strengthening tendons, ligaments and muscles, as well as improving bone density and posture.
A flexible, toned body feels and looks good and the Women on Weights @ BAC program also gives metabolism a boost too, offering true inner strength and fitness!



Bring a Friend for FREE
---
If you are interested in bring a workout partner to this program,
please click here
.
Client Testimonials
---
See way many BAC members have hired one of the club's trainers,
please click here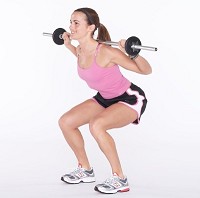 Women's Strength 2

with

Michael

Donnellan, CSCS

at Beverly Athletic Club
Next held on Wed, Oct 24, 2018 at 5:30 am - 6:30 am
This
enrollment
runs from Wed Oct 17, 2018 - Wed Dec 19, 2018
Learn More
Online registration is full or unavailable. Please contact us for details.