Youth Floor Hockey
---
Learn a proper slap shot, passing techniques, goal tending and more in this fun and active class! Children will learn basic hockey rules, work on drills and play a game in every class!

For a current listing of session, please see below or contact Emily Jellerson, Program Director at ejellerson@beverlyathletic.com or call 978-927-0920 Ext: 45 or Kelly O'Connor at koconnor@beverlyathletic.com or call at 978-927-0920 Ext 48







BAC gets youngsters involved & help them grow!
Sign Up Today
---
Birthday Party

with

Kaitlyn

O'Connor

at Beverly Athletic Club
Sat, Dec 2, 2017 at 11:00 am - 1:00 pm
Learn More
Online registration is full or unavailable. Please contact us for details.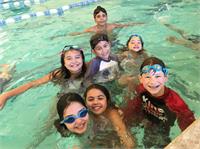 Building Active Children @ BAC
---
The philosophy of the club's Building Active Children department is to promote a healthy active lifestyle among the children and families we serve. We do this through high quality fitness and wellness programs and nutrition tips. By offering a safe and healthy atmosphere, we hope to inspire an early love for sports, fitness that be a foundation for a healthy way of life.

The club's Youth Activity Center (YAC) is more than a "babysitting room", is an interactive space that's provides children a safe and healthy atmosphere to build a positive relationships, self-confident, independence.
To learn about the next session, of Youth Hockey, please email youthprograms@beverlyathletic.com