Our Personal Trainers
:
I believe everyone's journey is unique and we should always strive to create the best versions of ourselves no matter what this looks like in comparison to others. When we set our minds to something the possibilities we are capable of are endless, and I am passionate about helping everyone discover what makes them feel their best, not only physically, but mentally as well. Through personal experience, I have learned about the difference that physical activity can make on our minds and bodies and I am dedicated to guiding you toward a love for a healthy lifestyle, however that may look.
Experience:
I graduated from Saint Joseph's College of Maine with a bachelor's degree in Exercise Science. During my senior year of college, I spent time interning in multiple physical therapy offices with many different populations and used this time to learn about the human body and how it can be challenged and healed through exercise.
See Erica Miller, Health Coach, CPT's schedule
Jarrid Crocker, CPT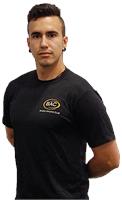 Training Philosophy:
Regularly training both the mind and body to become stronger is something I wholeheartedlybelieve in. Exercising the body improves the state of health and how you feel. Exercising the mind lets the body see it is capable of anything.
Experience:
I started my fitness career lifting in college. There I learned the importance of correct form, and the importance of regular exercise to stay healthy. I have found educating clients on functional movements to increase ease of…
See Jarrid Crocker, CPT's schedule